2019-03-23
Post-mortem: The Blue Brd
A cute bird, stars, mountains, a castle and some spiky balls - What more do you need?
A weekend project
This all started with my daughter painting a picture of all her Littlest Pet Shop figures. They were all cute, but especially the blue bird caught my eye. I asked her if she wanted me to help her and turn it into a game. She liked the idea and described the gameplay she wanted and painted the rest of the content. I spent some hours that night coding and transfering her paintings into the game. (She painted on paper)
In the morning, we had something playable and cute.
Release 1 - Windows Phone
We decided to release the game. During the following weeks, I added music, sounds, highscore etc. while Alma painted the logos, for both the Swedish and English versions.
Not a big success in downloads, but still, reaching a thousand downloads, was exciting and a big thing to a 7-year-old. :)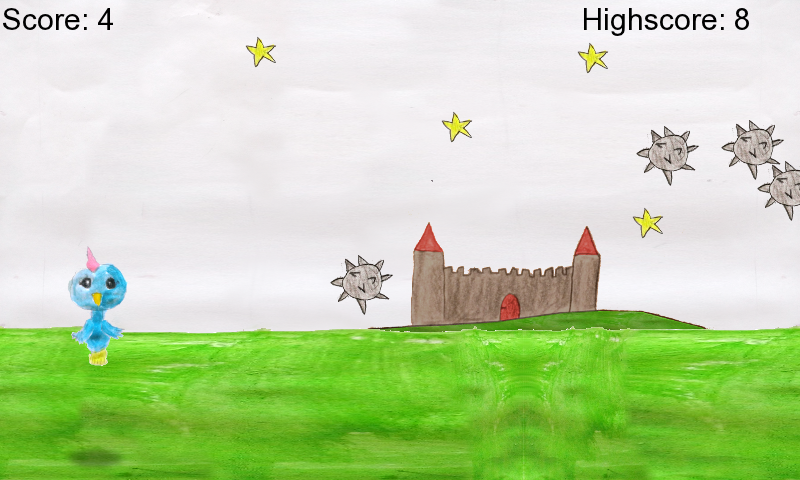 Screenshot
Release 2 - Android
Some time later, I found out that the language/tookit Haxe, which I had used previously for creating some flash games, now could be used to create Android (and iOS I think) apps. I decided to give it a try, and ported the game and released it on Google Play.
Without proper marketing, there are to many apps to get noticed. We didn't get any downloads worth mentioning.
Testing Leap motion
Even later, I ended up having a Leap Motion sensor on my desk (I had used it in a customer project at work) and decided to add gesture support to the game.
To flap the wings, you had to form the hand as a bird, and flap, by moving the thumb and little finger up and down, like wings. It seemed easy at first, but you got tired of that gesture really quick.
Never released, but kind of cool anyway.
Quick facts:
Released: 2013-04-11
Platform: Windows Phone, Android
Engine: Custom, XNA (win), Haxe (droid)
Downloads: 2033
-Oh, by the way. This was before Flappy Bird was released. :)

(update)
Android .apk download here.